All roads lead to Glasgow as world leaders and policymakers attend the 26th United Nations Climate Change Conference of the Parties (COP26) on October 31 to November 12.
The bar is set high with the conference setting four major policy goals. These include the need to secure commitments by the parties on issues from coal phaseout to electric vehicle (EV) rollouts and US$100 billion in climate financing. Also, all signatories to the Paris Agreement (COP21) are expected to update their nationally determined contributions (NDCs), or pledge to update.
The report of the Intergovernmental Panel on Climate Change (IPCC), released in August 2021, contained stark warnings about the state of warming of the planet and the impacts if warming exceeds 1.5C, with responsibility placed entirely on greenhouse gas emissions from human activity. The report is expected to galvanize action from policymakers, in a similar way that the previous IPCC report on the eve of COP21 catalyzed the adoption of the Paris Agreement.
Amid the high expectations, however, Marina Petroleka, global head of ESG research, sustainable finance, at Fitch Ratings, warns that the current tight energy supplies and rising energy costs may undermine interest for steeper curbs to energy systems, especially coal, in the long term.
"Success in key areas, such as a time-specific commitment to meeting financing pledges, agreement on reducing methane emissions and a push for standardization on voluntary carbon markets, can be key benchmarks of successes within the broader policy goals of the conference that lead towards global, coordinated policy actions," Petroleka says in the rating agency's ESG Credit Quarterly report for the third quarter of 2021.
This will be crucial in maintaining the policy momentum towards coordinated action on climate change mitigation and minimizing the risk of a disorderly and uncoordinated transition to a lower-carbon economy, Sustainable Fitch says in the report.
A key risk is if outcomes from COP26 are seen as underwhelming, with policy resolve from major signatories to the Paris Agreement wavering from their commitments, and specifically the 2030 commitments, which require more immediate and expensive actions, Fitch says.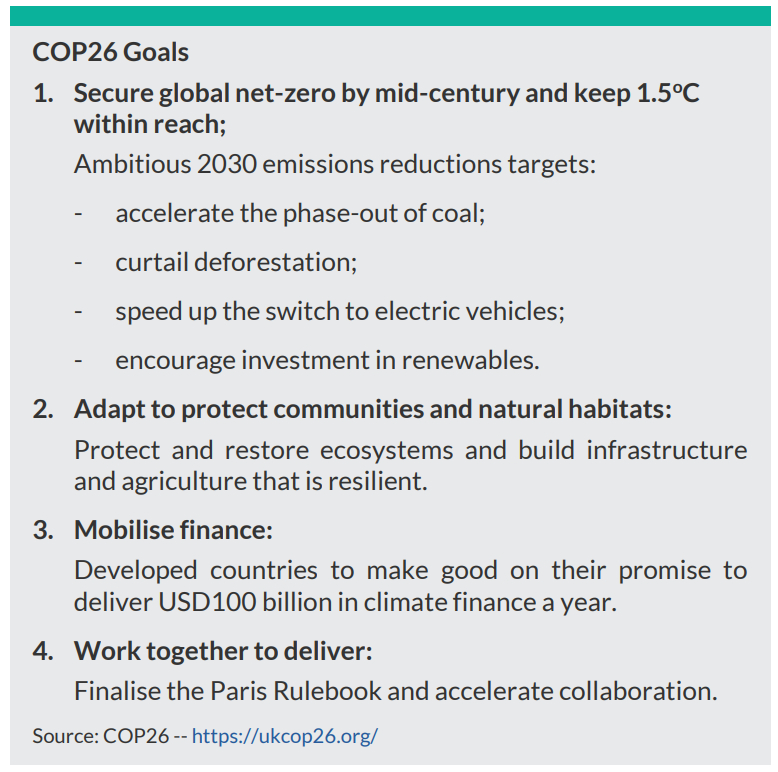 COP26 presents an opportunity for developed countries to reiterate their commitment of US$100 billion climate financing for developing economies, and announce plans to act on it. Aiming to create some momentum behind meeting this goal, US President Joe Biden has pledged to double US contributions by 2024, but his proposal will need legislative approval. However, the vastly increased government borrowings and debts following the Covid-19 pandemic can make countries' commitment either waver or altogether continue not materializing.
A pragmatic outcome may be a bridge agreement, where developed countries commit to providing this funding via the UN Green Climate Fund, with a view to renewing this commitment in five years' time, Fitch says. A time-bound commitment, as opposed to a more open-ended or very long-term commitment, may be more palatable and crucially achievable for the countries that have pledged to contribute.
Also, the commitment does not distinguish between private and public sources of financing. With a rising tide of green bonds, green and sustainability funds and other labelled instruments entering the market, recognition of their potential role in contributing to this target may be a way to move towards achieving this goal, the report says.
A binding commitment of the 2015 Paris Agreement is the pledge for each of the signatories of the agreement to increase the ambitions of their NDCs every five years, with COP26 marking the first five-year review and an objective to better align NDCs on a global level.
Getting all the major economies in the world to reiterate the pledge of a five-year review cycle of incrementally more stringent NDCs may be a realistic objective considering that several of the major economies may go into the conference with either weakened NDCs or even possibly without any updated submission, Fitch says.
Coal phaseout, EVs
Rising energy prices may test the limits of countries' commitments to progress on decarbonization, particularly the complete phaseout of coal. Major users such as India and China are facing electricity shortages, with the former reportedly having a serious deficit in coal reserves and the latter said to have asked coal producers in the coal-rich region of Inner Mongolia to ramp up production to meet electricity sector's needs.
The question of a set, globally accepted date for phasing out coal for electricity generation was already lacking consensus as shown by both the G7 meeting in June 2021 and G20 meeting of energy ministers the following month, Fitch observes. China, India, Russia, Saudi Arabia and Turkey did not endorse language that committed to phasing out domestic coal use at the G20 summit, while Japan and the US resisted calls to agree to a specific date for coal phaseout at the G7 meeting.
Fitch says agreeing on a set date to phasing out domestic coal was already one of the most ambitious and difficult goals for COP26. "It was unlikely that the conference would be able to produce a breakthrough in terms of a global commitment to a specific date, but it may have been able to produce higher levels of consensus to limit financing of coal activities abroad – spurred on by China's recent commitment to do so – and a collective agreement to phase out coal without carbon capture and storage, or unabated coal," the report says.
Still, "it remains to be seen where the energy markets are as COP26 gets underway and what impact this will have on countries that were already reticent about, if not outright opposed to, phasing out coal rapidly from their energy systems," Fitch adds.
Acceleration of the switch to EVs is an area where significant momentum exists already and where governments and other stakeholders can commit, or reiterate their commitments, to specific targets.
This is an easier task than other areas where policy makers will have to seek agreement. On EVs, there is now very broad consensus on their adoption and with the auto industry fully geared towards an electric and alternative-fuel future, the prospects for large-scale switch to EVs look strong, according to the report. Data by energy consultancy Wood Mackenzie indicate that global EV sales can reach six million in 2021, twice the amount of 2020, surpassing even the most optimistic projections at the start of the year.
Where policy makers can make a pledge to move policy forward is around the critical issue of financing charging/refuelling infrastructure buildouts, while also considering how changes in existing support policies (e.g., tax credits and purchase subsidies) can undermine growth. It is also predominantly government entities that have control over the procurement of public transportation vehicles, and coordination between agencies can increase the adoption of low-emissions buses, trains, and trams, Fitch says.
Disclosure mandates
Biodiversity and nature-related risks are also rising in policymaker and investor agendas, with higher scrutiny and demands for clarity on impacts, targets and disclosures. While mechanisms for investors to influence biodiversity are often more limited than for such risks as climate change, new financial instruments and disclosure mandates could point to ways to incentivise state-owned and private companies to stem biodiversity loss.
In an effort to strengthen sustainability-related disclosures, Japan, the United States and the International Financial Reporting Standards (IFRS) Foundation are all taking steps to enhance disclosures, particularly though not exclusively, around climate, adding to the rising number of jurisdictions that are setting rules and regulations around sustainability disclosures.
The impact of the International Sustainability Standards Board (ISSB), to be set up under the IFRS accounting standards and launched at COP26, can be notable with the organization expected to find broad-based support in many markets where IFRS standards are already widely adopted.