As the conflict in Ukraine continues unabated, environmental, social and governance (ESG) risks have increased by 5% on average for international banks with exposure to Russian clients, according to a recent report.
The increase risks are revealed in a Morningstar Sustainalytics report that assesses the exposure to business ethics issues of 12 international banks. Credit Suisse, Deutsche Bank and UniCredit are among the banks with the highest increase in ESG Risk Rating scores.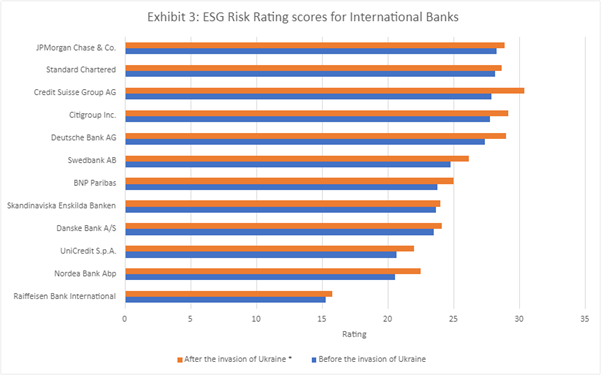 * The scores could be affected by the research of enhanced management indicators.
Source: Sustainalytics - Data as of April 2022
Sanction evasion, the report also reveals, is a material risk due to the business models and track records of international banks. International banks with no operations or presence in Russia appear to be less affected by the conflict in the short run.
However, certain international banks, based on Morningstar data, have repeatedly violated sanctions and faced criminal charges, hefty fines and settlements with deferred prosecution agreements that resulted in tight regulatory monitoring.
HSBC, according to the report, has low exposure to potentially high-risk Russian clients and faces low regulatory and operational risk with regard to financial crime and sanction evasion in connection to the Russia-Ukraine conflict.
Although HSBC has been involved in money laundering and has violated sanctions in the past, most of its regulatory cases are now closed, and the bank has improved significantly its management over the last years. It has no recent incidents related to sanction violations (new incidents over the last three years) like other peers, and it is not involved in ongoing investigations into anti-money laundering (AML) issues.
For Chinese banks, their exposure to business ethics risks due to the Russia-Ukraine conflict or related sanctions has not increased, as China has not officially imposed any sanctions on Russia and no Chinese bank has significant business exposure to the country.
Chinese banks still derive the vast majority of revenue from the Greater China region, and they have not been involved in significant sanction evasion or money laundering controversies related to Russia in the past.
Theodora Batoudaki, ESG research senior analyst for banks at Morningstar Sustainalytics, says: "All these of 12 international banks are facing higher regulatory scrutiny than their peers (diversified banks) due to their exposure to high-risk Russian clients, as shown by controversies data, as well as recent and recurring operational failures linked to AML and sanctions evasion."